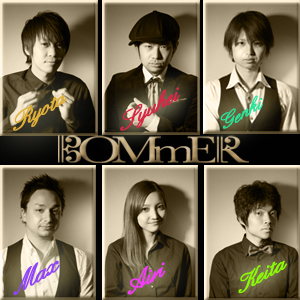 ファンクやソウルを好む深川とロックやパンクを好む本郷により2007年結成。
BOMmERの楽曲は様々なカラーをもつサウンドではあるが、あくまでもPOPに聞かせるジャンルレスなバンドである。
主に都内のライブハウスやクラブ、ストリートなどで精力的に活動中。
2012年、BOMmER1stCDシングル「永久の花/Lady」を販売。クラブシーンからも高い評価を受ける。
2013年、BOMmERの2ndCDとなるコンセプトミニアルバム「Sweet Soul Music」を販売。
発売に伴い渋谷Gladでレコ発イベントを自主企画し満員御礼となる。
2014年は3rdCDの制作や大型野外フェスへの参加、海外を視野に入れた活動を展開する。
---
BOMmER were organized by 2 guys, Shuhei(Vo.) the funky/soul guy and Genki(Gt.) rocky/puncky guy in '07.
Their sounds are basically funk, soul, R&B etc. but mixed up into pops.
Now, they have a live show constantly in live house, club and also in the street.
in '12, released the 1st CD (single) "towa-no-hana / lady"
in '13, released the 2nd mini Album "Sweet Soul Music"
They organized the release-live-show at Shibuya Glad in Japan, and make the live house full of the customers.
in '14, is now making the new songs for the 3rd CD, trying heading to big live festival in Japan, approaching to other countries, and so on…